Crystal Clear Bags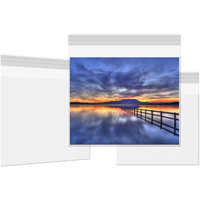 Showcase Your Product With Crystal Clear Clarity
Crystal Clear packaging is the best packaging choice when you want to Be Seen! Crystal Clear packaging bags help Promote, Protect, and Preserve your product. Crystal Clear Bags with a flap seal have a top flap with re-sealable adhesive strips allowing them to be folded and sealed over the bag's opening. The flap seal is adjustable for items to be smaller than the height of the bag allowing the flap seal to be folded past the opening of the bag if needed. The Protective Closure Crystal Clear product bags prevent the glue from coming in contact with your item. This is achieved by placing the re-sealable adhesive strip on the outside of the eco-friendly product bag instead of on the flap.

All plastic is recyclable and/or reusable
read our plastic recycling disclaimer for details.