3M 40 Anti-Static Tape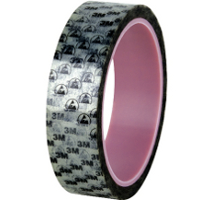 Pressure-sensitive ESD packaging tape to seal static-sensitive packages and bags.
Polyester film, anti-static, utility tape with acrylic adhesive.
3M 40 Anti-Static Tape removes cleanly after use.
Helps prevent damage to sensitive electronics.
Printed tape has ESD symbols on the tape.
Dispense with 3" Core Anti-Static Tape Dispenser.