Clear Lid Boxes with Color Base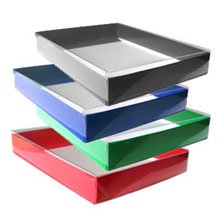 Color Retail Stationery, Greeting Card and Gift Boxes
Available in 13 Stunning Colors these wholesale retail boxes will surely make your stationery, greeting cards, photos or gifts shine. These rugged boxes are available in many standard sizes including 4 Bar, A2, A6, A7, A8 and Letterhead.
Custom sizes are available. Learn More
Not Sure What Size to Choose?
Take a Look at Our FAQ