Stationery Cards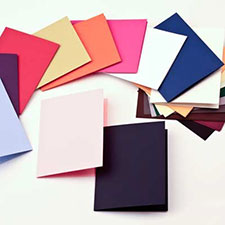 Wholesale Blank Cards | Affordable Cards for Your Custom Stationery
Before you can create your custom greeting cards and invitations, you'll have to find blank stationery for printing that fits your vision for the design.
Danco has hundreds of custom blank card stock card options for the stationery designer, including a variety of fun, interesting cards that include:
Museo Artist Carts
Eastern Metallic Cards
Linen Cards
Pearlescent Cards
Deckled Edge Cards, Mohawk Cards, and More
We carry a variety of different wholesale blank stationery styles and colors, each one made with very high quality. Since all of our cards are available at very competitive wholesale prices, you'll be able to find all of the greeting cards you need without hurting your bottom line.
With so many blank card stock cards to choose from, there's no limit to the number of designs you can create. Check out all of the options we have below, or let us know if you need help making a decision.