Clear Sleeve Gift Boxes with Paper Base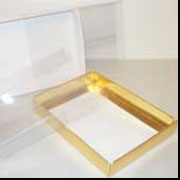 The boxes are manufactured in the USA with a White or Gold paper bottom and an upscale high Quality
CLEAR
plastic sleeve.
Our Clear advantage!!!
Clear Sleeves are the better choice. Why settle for overlapping lids that fall off the product, crack and don't stay crisp & clean. Sleeves are the Better Choice. Better quality, easier to use, Stays in place and continually protect the product, best off all sleeves save YOU money. Check out our prices.
Custom sizes are available. Click for more information.