Flo-Vac Vacuum Dispensers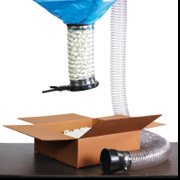 The perfect general-use system for anyone that receives packages with loose fill and wants to re-use fill.
Requires a minimum of 10' clearance.
Refills without lowering bag.
Strong vacuum empties a one cubic foot carton in less than 10 seconds leaving behind even the lightest items.
Sorry, No items found for your selected Sub Category.