Eco Stand Up Pouches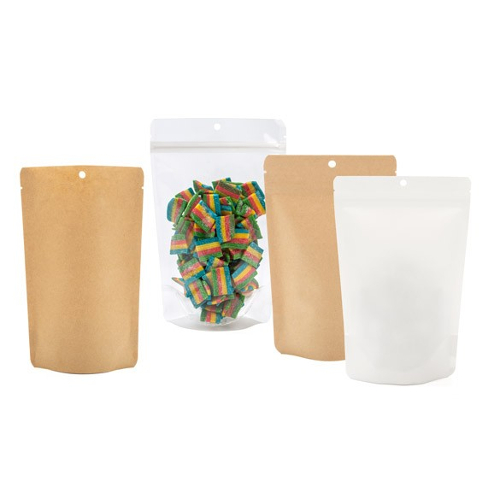 New! Eco-Friendly Stand Up Pouches
More sizes and styles arriving frequently, check back often!
Go green with our Eco Stand Up Pouches! Keep food items fresh with all the benefits of an eco sustainable package. These flexible pouches are made from 100% compostable materials and offer a high barrier. Our Eco Stand Up Pouches are made from the polylactic acid (PLA) of plants and include a laminated protective ALOX coating. Here are the details:
PLA (Polylactic Acid) is a bioplastic material made from renewable resources such as corn and sugar. It is a sustainable product and is compostable in industrial composting facilities. It is a great material to use in packaging as it is food safe and relatively inexpensive.
ALOX (Aluminium Oxide) Coating is a clear barrier coating and when applied to flexible plastic film can achieve high oxygen and moisture barrier properties. ALOX is compostable and when used with a PLA film will create a high barrier, compostable package.
Eco-Friendly with All the Popular Features
Eco Stand Up Pouches come in Clear, Kraft and White Kraft. The Kraft and White Kraft pouches come with clear oval windows or solid panels. All clear pouches come with resealable zippers while the Kraft pouches are available with or without zippers.
Ideal for retailing non-refrigerated items
High moisture and oxygen barrier
Food Safe, Heat Sealable
Tear notches, Round hang hole
Zipper options
Made from 100% compostable materials


Package coffee, tea, cookies, granola bars candy, powdered mixes, pet treats, and more. Easy to fill and heat seal to close. Sustainable packaging has never looked so good and kept products so fresh!