8 x 4 x 10 Kraft Shopping Bag 250/Case
IN STOCK
Product #:
S04NK
Shipping Weight:
21.00 LBS
Wholesale Price Breaks
| Quantities | Case Price |
| --- | --- |
| 1 - 4 | $131.54 |
| 5 - 40 | $118.38 |
| 41 - 50 | $111.83 |
Details
Heavy-duty kraft paper shopping bags are extremely durable.
100% Recycled with min. 95% Post Consumer content.
Strong twisted handles make bags comfortable to carry.
Stand alone square bottom bags are easy to pack.
Re-usable.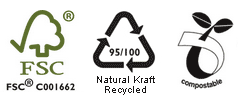 Custom Printing Available
Stock bags can be customized in an economical, short run post converting method. Learn More Here
Why Buy From Us?
Here are more great reasons to buy from us:
No Handling Fees
At Danco, we believe that it is our duty to be transparent with you every step of the way. That means: no handling fees because it's our job to handle (not yours.) You can have peace of mind knowing that our pricing is straightforward with no hidden fees.
Over 14,000 Products In Stock
Danco Packaging Products has a growing selection of shipping and packaging supplies. Every week we add to our inventory and continue to strive to meet our customers shipping and packaging needs. If you don't see the product(s) you are looking for please contact us as we might just have it.
Best Selection of Stationery and Greeting Card Boxes
Danco Packaging Products carries, in stock, stationery boxes in 14 colors and 9 sizes. Everything from Christmas Red to Kraft to plain White available in A2 to Letterhead Box Size. These boxes are also great for packaging your greeting cards and gifts.
Plastic Tubes in Stock
Danco Packaging Products provides industry best clear plastic packaging tubes for your product with a variety of caps/plugs ready to ship today. Looking for a specific size we also offer custom runs with only a four week lead time, learn more.
Unbeatable Prices
Danco Packaging Products offers Shipping and Packaging Supplies at competitive prices, with no membership fees or hidden charges!
Same Day Shipping
Orders placed before 2:00 PM EST usually ship that day. Weekend and holiday orders will be processed on the next available business day.
30 Day Returns
You may return any products ordered from us within 30 days of the purchase date. A 20% restocking fee will be applied to all returns. If you would like to return an order please contact our customer service center at 1-800-831-3220 for assistance.
100% Secure Shopping
Danco Packaging Products guarantees all our valued customers a safe and secure onpne shopping experience. dancopackagingproducts.com utipzes state-of-the-art Secure Socket Layer (SSL) 128-bit encryption. Your information is safe with us.
Great Customer Service
We are here for you. Our Customer Service reps like to think of themselves as problem solvers. Need to make sure our product will fit yours, give us a call and let us do our thing. If you're not completely satisfied with your order you may return it within 30 business days of receipt for a refund or replacement (See Our FAQ).
You May Also Consider