3M 8916 Standard Strapping Tape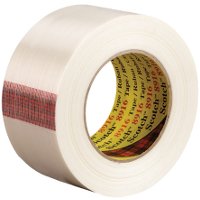 Designed to hold appliance parts together during manufacturing and shipping.
Specifically formulated to provide high adhesion, clean removal and stain resistance on most finishes.
Excellent moisture, abrasion and scuff resistance.
6 Mil.
Clear polypropylene backing reinforced with glass yarn filaments with a synthetic rubber adhesive.
Tensile Strength 170 lb.